INSPIRATIONAL SELF-HELP CARDS
Meditation Cards for your Spiritual Journey
If you have run across my Toltec wisdom book recommendations, you will recognize these, having fallen all over myself recommending the book. The deck consists of 48 cards, 12 cards for each principal: "Be impeccable with your word," "Don't take anything personally," "Always do your best," & "Don't make assumptions."
These little life principals seem so simple, but take work to implement into your life. Each card presents an affirmation relating to that principal. It's a great way to start your day, by choosing a card, and focusing on that affirmation throughout the day. I do suggest, however, that you read "The Four Agreements" first, so that you understand the fundamentals of the principals. You can find the book here.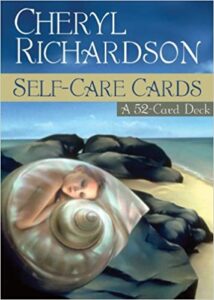 "Self Care Cards" by Cheryl Richardson
Cheryl Richardson is one of the premiere life coaches in the field. This deck of cards is a wonderful combination of beautiful art and weekly affirmations.
On the front of each card is the artwork and the topic for the week; on the back are simple affirmations to take with you through your days. The deck consists of 52 cards, one for each week of the year.