MINIATURE AND POCKET-SIZED
RWS TAROT DECKS
"Tarot on the Go"
Miniature & Pocket Rider-Waite-Smith & RWS Clone Decks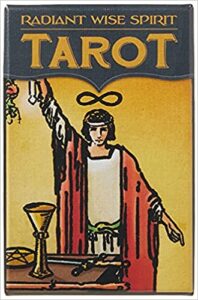 Radiant Wise Spirit Mini Tarot
This deck has, hands-down become my favorite mini deck. The size is unique, 1.7" x 3.1" which is not quite as big as a deck of cards, but bigger than many of the mini decks which a just a bit too small to comfortably feel good about seeing the images. I LOVE this deck.
The colors are dark and brooding, giving night cards an actually feel of the night, and beautiful non-primary daytime colors. The deck coloring is based off of the out-of-print "Dirty Pam" deck, which is rare and in-demand. There is a borderless full-sized deck called the Radiant Wise Tarot, but I don't really recommend it. It's all personal, but there's something about the no borders that takes away from the coloring. These minis, however, are to die for. If I had to choose only one smaller sized deck, it would be these both size and color-wise. Beautiful, beautiful deck. Can't recommend it highly enough. Also comes in a nice, sturdy box.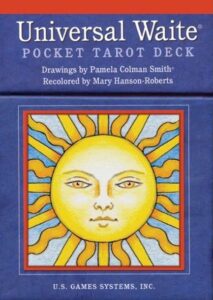 Universal Waite Pocket Edition
For many years, these were my 'go to' deck. Perfect pocket size, similar to a deck of playing card. They have soft, pastel colors, but not exactly like the standard sized deck, which I also like and recommend. If you like soft colors and realistic gradients, these are a great deck. 

The Pocket Rider Waite Tarot Deck

The standard U.S. games version of the RWS deck, but in pocket size. (Similar to playing card size.)
The pocket version was one of my very early decks. I used it until the cards were so thick I could hardly shuffle them. Very nice size to carry around if you like the classic look. They also have a smaller mini deck, as well, linked below.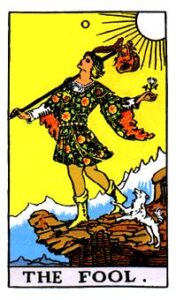 Miniature Rider Waite Tarot Deck
Smaller yet, the mini deck is another that's great to carry around. Never know when someone may want a reading. 😉
This is one of the few decks on these pages that I don't personally have because they just look too small to me, but since I'm so hot on the Universal Deck, I thought I would at least make a mention of them here.
From what I hear, they are about the size of a postage stamp and come on a key ring, so really, they don't sound practical for reading purposes, but certainly they might be a cute little item to have for a collection or a key ring.
---
(If you do decide to buy one of the decks I've recommended, through Amazon,
please consider buying through a link from this site so as to contribute to keeping this site up and running. Thanks.)
---