Pelican as an Animal Spirit Guide
Keywords:
Forgiveness, Cooperation, Release, Adaptability
When Pelican crosses your path:
— Forgive yourself
— Let go of resentment towards others
— Let go of that which 'weighs you down', be it material, emotional or mental
Think about Pelican:
They have that large sack with which to fish. They can fish abundantly with it, but know that it needs to be empty to have the freedom of effortless flight. They swallow the fish and empty the water out of the pouch. They know when to let go.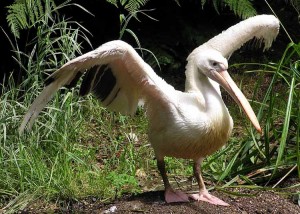 Pelicans know how to adapt to the conditions in which they live. Despite their large size, they are deceptively light. This makes them buoyant and they float effortlessly on the water. And although, they may, at times, have trouble taking off from the water's surface, they persevere, not allowing themselves to get bogged down in the water. (symbolically, water = emotions)
Pelicans are very social beings. They live in cooperative colonies, teaming up to fish, and they nest away from species with whom they may have conflict.
Call on Pelican energy when:
— You feel the need to 'lighten up'
— You feel the need to let go of resentment or anger towards another
— You feel overwhelmed and want to rise above your heavy emotional state
— You feel the need to keep your head held high, despite your trials and tribulations
Pelican medicine teaches us:
–That no matter how heavy our burdens, we will always rise to the top
— How to forgive ourselves, by releasing ourselves from that which bogs us down
— How to 'team up' with others in harmony and cooperation
——
References:
— Animal Spirit Guides by Steven D. Farmer
— Shamanism, Vol. III, Animal Medicine Powers, by Dolfyn. ©1992 Earthspirit Inc.
— Pelican Facts
— Animal-Speak by Ted Andrews